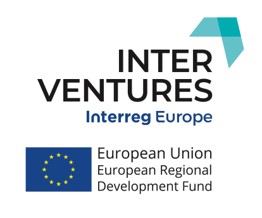 Project summary
INTER VENTURES promotes the internationalization of SMEs in EU border regions, thus contributing to their growth and increased competitiveness.
INTER VENTURES brings together partners from five European border regions, representing various stages of evolution of SME ecosystems, from occasional cross-border cooperation through more structured networking to international clusterization.
During the project implementation Partners will intensely share their experiences and learn jointly via Thematic Study Visits, Interregional Meetings combining training with discussions. Regional stakeholders will be intensively involved in the process through RSG Meetings and Webinars including training, brainstorm sessions and assisted workshops.
Lessons learned will be adapted to regional conditions explored through targeted surveys of regional SMEs. As a result, tailor-made regional Action Plans will be elaborated that can lead to the desired improvement of the five selected regional ERDF programs for the enhanced internationalisation of SMEs.
Documents
INTER VENTURES Pannon EGTC Analysis
INTER VENTURES GP_HU_Fostering
INTER VENTURES HU_Promoting Women
INTER VENTURES Applicability report
Regional policy recommendation_HU
Introduction of Interventures project's action plans (short version, Hungarian subtitle)
Introduction of Interventures projects's action plans (long version, Hungarian subtitle)