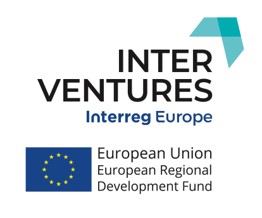 Project title: INTER VENTURES - "Policies to promote the internationalization of SMEs for more competitive regional ecosystems in border areas of the EU"
Grant scheme: Interreg Europe
Project ID: PGI06122
Lead partner: PANNON EGTC
Other partners:
Unioncamere Lombardy (Italy)
Rzeszow Regional Development Agency (Poland)
Carpathian Euroregion (Poland)
CEEI-Burgos (Spain)
Klaipeda ID (Lithuania)
Association of European Border Regions (Germany)
Klaipeda City Municipality (Lithuania)
Society for the Development of the Province of Burgos (Spain)
Duration of the project: 08.08.2019 - 31.01.2023.
Total eligible costs: EUR 1,311,025.00
ERDF contribution: EUR 1,083,652.65
Of which PANNON ETT:
Total eligible costs: EUR 367,781.00
ERDF contribution: EUR 312,613.85
National co-financing: EUR 36,778.10
Self-sufficiency: EUR 18,389.05
The main aim of the project is to promote the internationalization of small and medium-sized enterprises in the border regions of the European Union, thus helping to increase their competitiveness.
The final document of the application is the Action Plan that the five regions in the partnership had to create, each in their own territory. The Pannon EGTC Action Plan focuses on creating a program to help less prepared SMEs go international.
The program will produce a "readiness test" to help assess the internationalization readiness of applicant SMEs (or consortia of cooperating SMEs) according to their aspirations or objectives, and then develop a development plan on how to increase readiness to a level that is realistic. allows for internationalization.
The participation of the Hungarian partner in the project is co-financed by the Hungarian Government.
Documents:
INTER VENTURES Pannon EGTC Analysis
INTER VENTURES GP_HU_Fostering
INTER VENTURES HU_Promoting Women
INTER VENTURES Applicability report
Regional policy recommendation_HU
Introduction of Interventures project's action plans (short version, Hungarian subtitle)
Introduction of Interventures projects's action plans (long version, Hungarian subtitle)